US President Donald Trump has visited Dayton, Ohio, at the start of a trip to the sites of two mass shootings at the weekend which left 31 people dead.
He is now on his way to El Paso, Texas, where Hispanic people were targeted in an apparent hate crime.
Earlier, Mr Trump said he was concerned about "the rise of any group of hate… whether it's white supremacy" or any "other kind of supremacy".
But he himself has been accused of stoking hatred against Hispanic people.
The Democratic congresswoman who represents El Paso, Veronica Escobar, is refusing to meet him, saying his "racist and hateful words & actions" had caused pain to her community and her country.
The El Paso shooting is being treated as a possible hate crime. Much of the city identifies as Hispanic and the suspect is thought to be the author of a text posted online which said "this attack is a response to the Hispanic invasion of Texas".
The text echoed some of the US president's language, with Mr Trump having frequently used the term "invasion" to describe the situation on the US-Mexico border.
Police have still to establish a conclusive motive for the Dayton attack but say they have uncovered evidence "that the shooter was exploring violent ideologies".
Attempts by Mr Trump and others to link the shootings to mental illness have been criticised by healthcare professionals.
On Wednesday, the president said he did not "want guns in the hands of sick people" and was "looking to do background checks".
What did Trump say in Dayton?
Nine people were killed in the city by a gunman who opened fire in a part of the city popular for its nightlife at 01:07 local time (05:07 GMT) on Sunday.
The president and his wife Melania Trump were greeted at a local air base by Dayton Mayor Nan Whaley, who had publicly criticised Mr Trump earlier, urging people to "stand up" and saying she planned on telling "how unhelpful" the president had been on addressing gun violence.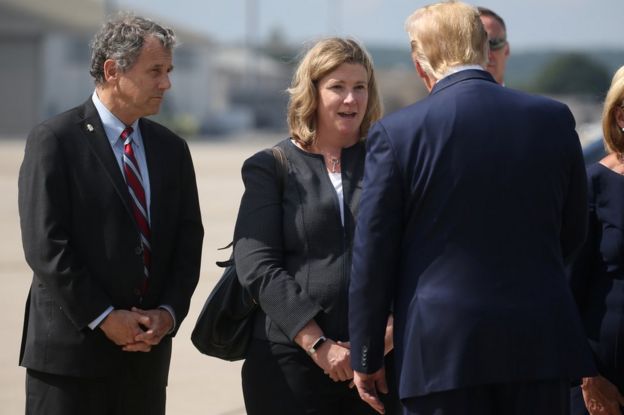 The Trumps then went on to Dayton's Miami Valley Hospital to meet survivors, emergency workers and staff.
"You had God watching," the president told survivors and families. "I want you to know we're with you all the way."
Outside the hospital, protesters flew a "baby Trump" balloon and held signs reading "Do Something", "Save our city" and "You are why", Reuters news agency reports.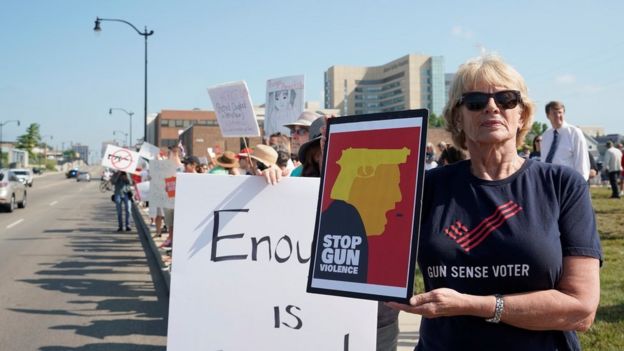 "He's the president and he has a lot of power, and he's been using it to incite violence, and we need him to use it to incite peace," an unnamed demonstrator told CBS.
"He's creating division in the country, and we need to speak up. You know, assault weapons – it's crazy what's going on with these weapons, they need to be restricted."
In El Paso, Beto O'Rourke, a native of the city and Democratic presidential hopeful, said Mr Trump had "no place" there.Skip Twitter post by @BetoORourke
This president, who helped create the hatred that made Saturday's tragedy possible, should not come to El Paso. We do not need more division. We need to heal. He has no place here.195K1:22 PM – Aug 5, 2019Twitter Ads info and privacy51.3K people are talking about thisReport
End of Twitter post by @BetoORourke
Both he and Ms Escobar have said they will attend a community event intended to honour those who died and "confront white supremacy".
In a tweet on Tuesday night, the president mocked Mr O'Rourke's Spanish nickname, "Beto" and suggested he should "be quiet". The Irish congressman's birth name is Robert, but he was given the nickname as a child as he has the same name as his grandfather.Skip Twitter post by @realDonaldTrump

Donald J. Trump✔@realDonaldTrump
Beto (phony name to indicate Hispanic heritage) O'Rourke, who is embarrassed by my last visit to the Great State of Texas, where I trounced him, and is now even more embarrassed by polling at 1% in the Democrat Primary, should respect the victims & law enforcement – & be quiet!114K8:57 PM – Aug 6, 2019Twitter Ads info and privacy83.7K people are talking about thisReport
End of Twitter post by @realDonaldTrump
El Paso's Republican Mayor, Dee Margo, said it was his "formal duty" to welcome Mr Trump but added he would "continue to challenge any harmful and inaccurate statements made about El Paso".
Mr Trump this year inaccurately described El Paso as one of the most dangerous cities in the US as he sought to advance his border wall scheme.