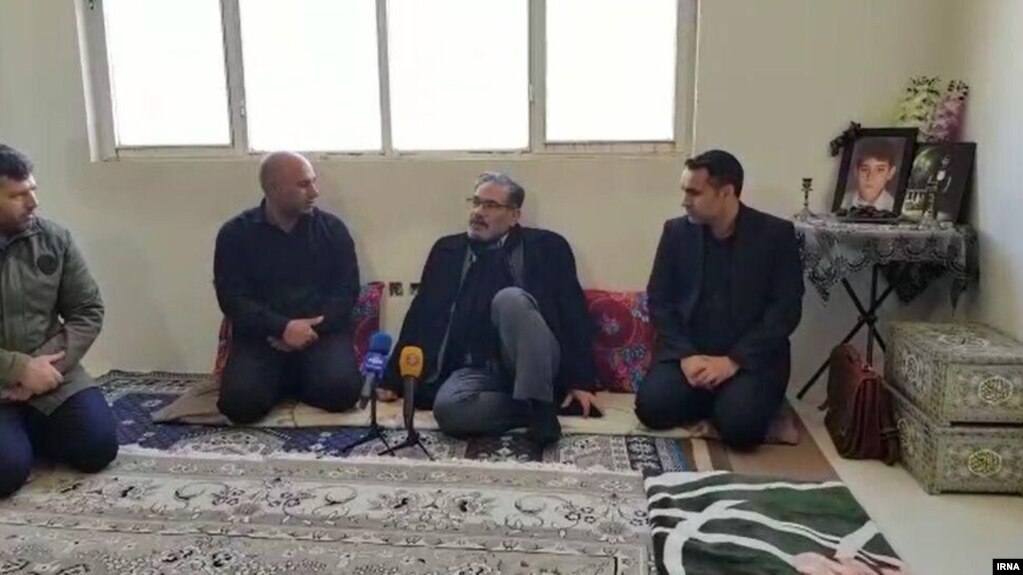 Iran's security chief Ali Shamkhani has claimed that "85 percent of protesters shot to death in the Tehran County during the mid-November anti-government protest had nothing to do with protest gatherings."
Shamkhani, who according to the Iranian administration's spokesperson Ali Rabiei, has prevented the releasing of the protest casualty toll, however, claimed that the victims have "shot each other at point blank."
He also claimed that the victims were killed by weapons that are not part of the Iranian armed forces military equipment.
According to IRGC-linked Tasnim news agency, Shamkhani made the remarks during an informal visit to the home of a 13-year-old victim who was shot to death by security forces.
He also paid similar visits in Malard and Qaleh Hassan Khan townships in the same area.
The "informal and cordial" meeting was also attended by a State TV video crew who had stage-managed the scene of the utterly poor family in the underprivileged neighborhood in Shahryar, West of the capital Tehran before Shamkhani's arrival.
Furthermore, Shamkhani did not explain where the protesters were killed if they were not part of any protests.
He said the Islamic Republic's opponents were responsible for the murders. Other Iranian officials including IRGC Deputy Commander Ali Fadavi had also claimed earlier that protesters shot each other. This comes while none of the videos posted on Iranian TV as well as those aired on foreign-based satellite TVs show any armed protesters.
Some other officials such as the Parliament Presidium member Amir Hossein Qazizadeh Hashemi have gone one step further, claiming that armed protesters were shooting the security forces, mindless of the fact that the victims are ordinary men and women rather than security forces personnel.
None of these officials have substantiated their claims. On the contrary, following a ten day shutdown of the Internet in Iran to curb news dissemination about the violent clampdown on protests tens of videos show Iranian armed forces shooting down unarmed Iranians, sometimes with heavy machine guns.
One of these videos posted by the Kurdish Human Rights Network show uniformed snipers in the city of Javanroud, shooting peaceful demonstrators from the rooftop of the city's Justice Administration office.
Regardless of calls by international bodies such as the EU and UN for the announcement of the number of those killed during the protests, no official casualty toll has been announced so far, however, the Islamic Republic's Supreme Leader Ali Khamenei has pronounced everyone killed during the protest a "martyr." He has also offered blood money to some of the victims' families. At least one of those families is said to have refused to accept the money.
The administration's spokesman promised on Sunday to "gradually" announce the casualty toll. During the past years, Iranian government never respected similar promises.
According to Amnesty International there have been at least 208 confirmed deaths as a result of shootings by the security forces. Opposition website Kalameh put the number at 366. But both sources believe the actual number could be higher as independent confirmation is difficult to come by.
The protests started on November 15 following a sudden three-fold hike in the price of gasoline, but soon turned into nationwide anti-government demonstrations against the Islamic regime.