The House Jan. 6 committee focuses Thursday on the final frantic weeks of former President Donald Trump's presidency, including an Oval Office meeting with a motley crew of outside advisers who wanted him to declare a national emergency to remain in power.
"The meeting has been called, quote, 'unhinged,' 'not normal,' and the 'craziest meeting of the Trump presidency,'" Rep. Jamie Raskin, D-Md., said. "Specifically, they proposed the immediate mass seizure of state election machines by the United States military. The meeting ended after midnight with apparent rejection of the idea."
Then-White House counsel Pat Cipollone led a group of three administration officials in an angry and profane hours-long verbal fight — one that almost turned physical — against outside advisers Sidney Powell, Michael Flynn, former Overstock.com CEO Patrick Byrne and former administration official Emily Newman. Later, informal Trump adviser Rudy Giuliani, who was trying to overturn the election results, joined the meeting.
"What they were proposing, I thought was nuts," Cipollone said in pre-recorded testimony before the committee. At one point, Eric Herschmann, a Trump White House lawyer, said he challenged Flynn, a retired general and former national security adviser, suggesting he could fight him or sit down. The meeting eventually moved from the Oval Office to the president's private residence.
That fiery discussion is part of the committee's effort to demonstrate increasing desperation inside the White House and among Trump's most ardent supporters. The panel also fleshed out the relationship between Trump and the insurrectionists who stormed the Capitol.
And, in testimony to bolster the panel's contention that Trump was advised he had no path to remain in office, the committee played segments of an interview with former White House counsel Pat Cipollone, who was present for many conversations in which Trump explored ways to overturn the election.
"If your question is 'did I believe he should concede the election at a point in time?' yes, I did," Cipollone told the committee in pre-recorded testimony, adding that then-White House Chief of Staff Mark Meadows repeatedly assured him and then-Attorney General William Barr that Trump would eventually concede.
Committee members said Tuesday that Trump incited extremists with his public commentary in the weeks, days and hours leading up to the storming of the Capitol.
He "summoned a mob to Washington" and "provoked that mob to attack the Capitol," Rep. Liz Cheney, R-Wyo., the top Republican on the committee, said.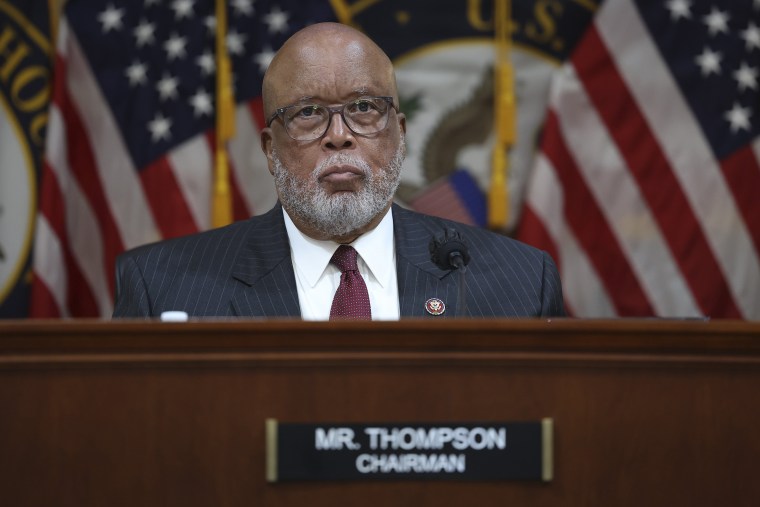 The panel's witnesses Thursday included Jason Van Tatenhove, a former spokesman for the violent extremist group Oath Keepers, and Stephen Ayres, an Ohio man who pleaded guilty to disorderly conduct charges after entering the Capitol, sources told NBC News. Ayres has not yet been sentenced.
The panel argued that Trump's campaign to hold power following his defeat in the 2020 election intersected with plans to attack the Capitol.